Van Courier Services for Local & Regional Deliveries
Save Money While Giving Yourself a Competitive Edge!
As online ordering rises, parcel shipment costs can quickly add up, especially if you're working with large parcel shipping companies. To prevent transportation fees from depleting your profits, Service Express provides reasonably priced van courier services. Our courier team will effectively manage your transportation logistics at a more economical cost than many of our competitors! Contact us to learn how much money you can save with Service Express.
What You Can Expect with Our Courier Services
As a full-service logistics provider, you'll gain access to a diverse network of carriers and fully insured drivers. To ensure we meet your needs, our team manages your parcel shipments from start to finish while keeping you informed every step of the way. As a result, the Service Express team has developed a reputation for providing rapid and accurate deliveries with honest communication.
We Have the Agility to Meet Changing Needs & Requirements
Accurate & Reliable Tracking
Providing you and your customers access to real-time tracking data is a non-negotiable item for us. We stay current on the latest technology, so you have access to your packages at all times.
Delivery status 

Delivery driver tracking and arrival 

Door-to-door shipment visibility

Easy filtering to find specific deliveries by the time 

EDI booking and invoicing

POD's
Van Courier Services Available
Our carriers make deliveries throughout the week, while optimizing route planning to help lower your overall costs. Depending on your needs, we can work with you on pricing to find a solution that meets your shipment requirements. Visit our last mile delivery to learn more about our B2B freight services.
Types of Courier Services: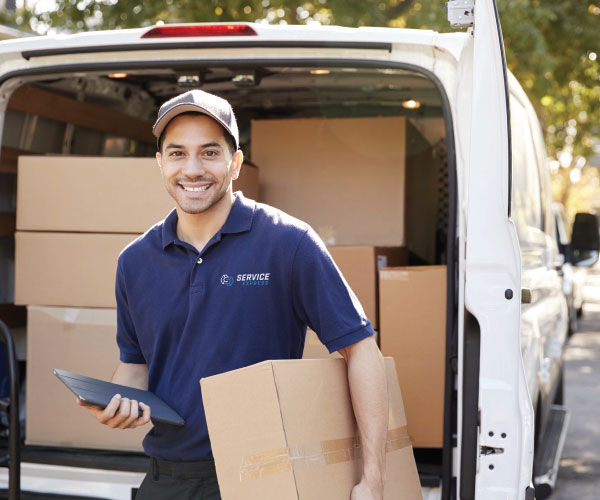 Parcel Shipments to
Commercial Locations
Routed or Scheduled
Services
Distribution, Warehousing, and Fulfillment in Certain Areas
Types of Delivery Vehicles:

Four-wheel drive vehicles
(for all weather conditions)
Service Areas and Terminals Available
We offer courier services at any of our terminals below.
From Logistics to Truckload to Courier Services
– We Do it All!
With Service Express, you're working with a team of individuals focused on helping you achieve your goals. As you continue to move forward with us, you'll develop a relationship with our team members that'll last beyond your initial service.
As Your Business Expands - We Grow with You!
Many Service Express customers who started with one of our services (pool distribution, truckload, LTL, last mile delivery) have added additional services to their company. That's a considerable advantage that we provide our customers.
Save Time & Increase Profits with Service Express
When you significantly reduce your parcel shipment costs, your profits increase! We're here to become part of your transportation department. We'll handle the logistics, delivery, shipment status and prevent possible obstacles before they occur.

Contact us to learn how we can help you start saving money!